I am a little behind on the ol'blog. But I did capture a few pictures from our busy events that I will get around to...eventually.
I just love being a mom. Over the last few weeks I have been in full mom mode, with two birthdays ( Dallin and Spencer), Mother's Day, six gifts to buy, volunteering and root beer float making, planning Kylee's high school graduation day and party, doctors' and dentist appointments, spring cleaning, two photoshoots, enrolling Faith in pre-school, getting Spencer to Utah for a funeral, along with helping him job hunt, coaching Kylee's church basketball team , going to regionals and taking 1st place ( yes I am proud of that ) etc. etc. etc. Those are all the extra things I do besides the normal cooking, shopping and cleaning for 7.
I was talking to a friend the other day about family life and I realized that I have 5 children in 5 different schools. Talk about a scheduling nightmare? And yet...I love it! I love being busy, I love being involved and I love having a life.
I called my mom last week when I literally had 10 minutes to talk. She told me the story of when I was born. She said , I was so eager to be alive, I didn't cry but just took everything in. Looked at the lights, the doctor, her , the nurses. I was ready to be here and live my life!
Thank you mom for sacrificing so much to bring me into the world, thank you mom for always telling me I could do anything I set my mind to, for allowing me to dream big. Growing up my mom always believed in me and encouraged me. I really felt I could conquer the world when I graduated high school. I obviously didn't, but her early confidence in me helped me weather my failures and press forward with a can do attitude.
I am also blessed with a wonderful mother in law who constantly shows support and encouragement to us. She is fun to be around and has a wonderful laugh. She is talented and crafty. If you want to learn a homemaking skill she's your gal. She is easygoing, a good listener and slow to anger. She is amazing. I see many of these same wonderful qualities in my dear husband Jeff and I thank her for raising a responsible and righteous son.
Being a daughter was effortless, I didn't really have anything to do with it, but becoming a mom is a different story. Motherhood to me is amazing, rewarding, exhausting, heartbreaking, intimidating and quite the roller coaster ride. I don't think I can even effectively put into words the emotions attached to motherhood. If someone had told me before I was a mother that every success and failure experienced by my children would equally effect me I wouldn't have believed it possible. When they have a success my heart sores, and when they hurt or have a failure my heart aches.
Each one of our children have brought joy and a unique personality. Spencer for his trust and obedience, Kylee for her attention to detail and her awareness, Jensen for his quick wit and his easy going ways, Dallin for his hard work ethic and his curiosity, and Faith for her imagination and her pure heart. As a parent I knew how much joy another child would bring to us. What I didn't realize is that our older children would experience that same joy when we adopted Faith. They just surround her with love and affection.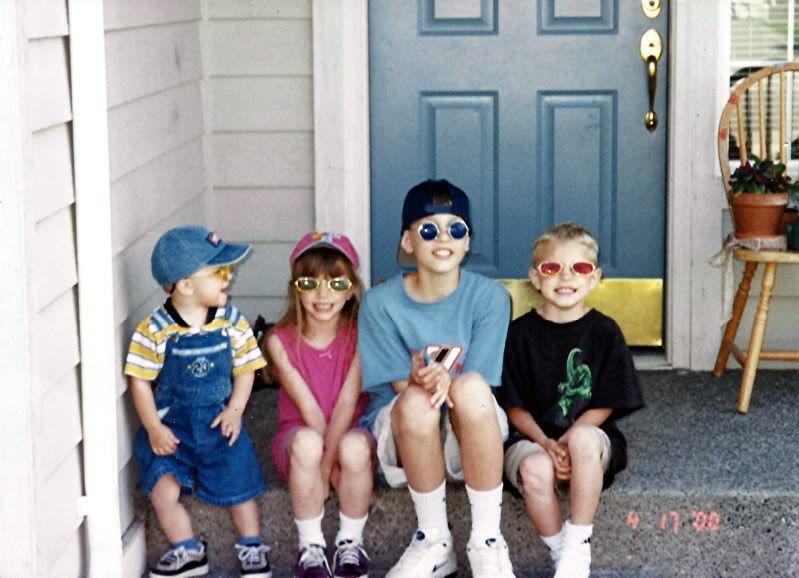 My sweet children when they were younger...
Faith bringing joy and laughter to our home by putting both her feet in Dallin's one shoe and hopping around the house as a baby mermaid.