Here's my "Sweetie Heart" Those are the words Faith uses to describe herself, she will say, " I am your sweetie heart." She is my Sweetie Heart! Daddy is at work today and all the siblings are at school so she and I had a girls day out. We went shopping and I let her pick whatever she wanted. She ended up getting a BRIGHT peace sign swimsuit and a BRIGHT yellow shirt. Colors I usually steer clear from. She also wore the outfit her oldest brother Spencer gave her for Christmas, he picked it out himself. I think he did a great job! He just left again for college and she already misses him. We got to talk to him on the phone today, so she is happy. After shopping we went to Chuck E Cheese. Did you know what the E stands for in his middle name? Entertainment...ya learn something new every day. Faith had a great time. After lunch I took her to school. I bought cookies for her to share with her class and made her an adoption picture book to share with her class. She decided she didn't want to take the book to school so I let the teacher know when I dropped her off they would just be enjoying the cookies with no sharing time about her Gotcha Day. I am glad Faith can communicate her feelings so well at a young age.
Here is Faith's to do list for her family day, which is what she likes to call it instead of Gotcha.
Shop
Go to Chuck E Cheese
Go to McDonalds to eat fries
Play in their playland
And get a toy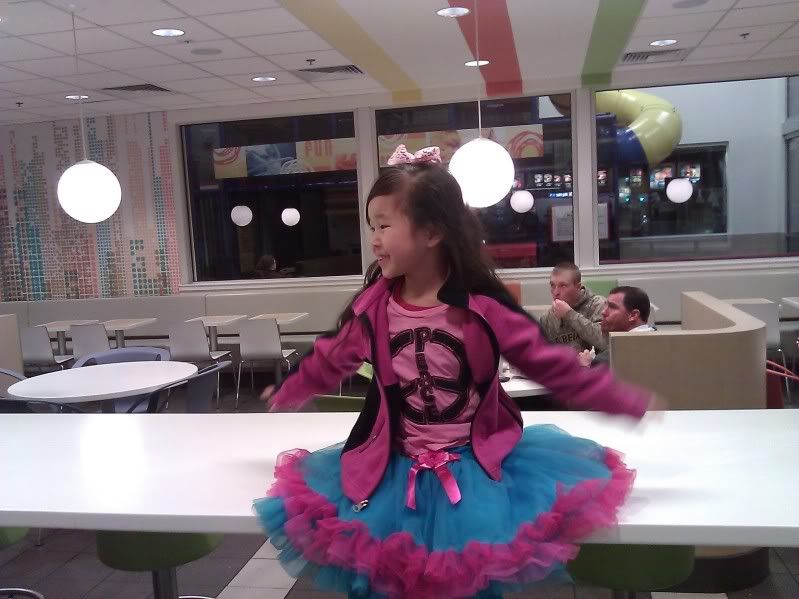 Faith at McD's!
So guess where we are going for dinner when everyone gets home?